Just to have some fun, don't worry about how it well be. I'll put an example of what I'm looking for here (also for me to get an idea who you think in each pairing more like a werewolf vs vamp >_<)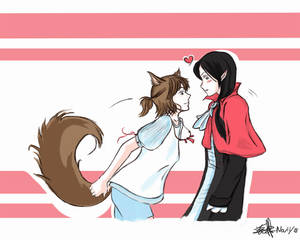 Clearing out some of my 10 yr collection of anime figures and realized I have a lot. Haha. Thought about what to do with them and thought hey why not make it a contest and have them as prizes 🙂
Certain pairing fandom lack the love so here's a contest to facilitate some!
Contest Period: Now until Jan 1 2019 (Eastern Time/EDT-5; within 24hrs I'll accept)
Theme: Werewolf and Vampire pairing; in Halloween, Christmas, or New Years setting.
Accepted Pairings: (you can do other pairings from these series but you'll need to write a reasoning why)
No-rae x Seol-a (Fluttering Feelings)
Teana x Subaru (Mahou Shoujo Lyrical Nanoha Strickers S)
Akko x Diana (Little Witch Academia)
Akira x Mashiro (Mai Otome)
Minako x Rei (Sailor Moon)
Ymir x Krista (Attack on Titan)
Layla x Sora (Kaleido Star)
Chihaya x Shinobu (Chihayafuru )
Form: Can be art work (that preferably tells a story/slice of their life) or fanfiction (short story or novella)
Entry:
Open to Worldwide. Language English or Chinese (unfortunately that's the only two language I can understand but if the artwork can be understood without language barrier, I'm perfectly fine with it). There will be 3 winners; they can each pick one item set they like. First place winner can pick first from the prizes, then second place, then third place from the smaller prizes pile. Depends on how this goes prizes may change/increase variety as I clear out more collectibles and trading figures. May even consider consolation prizes for runner ups or more winners. However if there's less than 10 entries then the contest may be cancelled.
As many entries as you want.
Please email subject heading: "Yuri Creative Contest 2018" to f2mo89@yahoo.ca If it's received I'll reply within the week to confirm.
Cost: The winners are responsible to pay a base shipping fee of $11 USD (the rest cost, handling/packaging I'll cover); depends on how it goes could end up be free shipping 🙂
Disclaimer: As this is my first time hosting a contest, there's bound to be troubleshootings so please bare with me here. Also, the entries may be displayed on this site; I haven't decided what to do yet. The goal is to motivate the community into some creative thoughts while having fun 🙂
So by entering this contest you've agreed to how I'll handle the usage of your artwork/creation for presentation purposes in the community.
Finally, any clarifications feel free to send me a message.
Sponsors: I'm open to sponsors to turn this into even a bigger contest with better prizes.
Prize Choices:
First Prize Winner can choose one of these in the photos above.
Second and Third Choices Below: